PRAMUKH : COTTON LINT CLEANER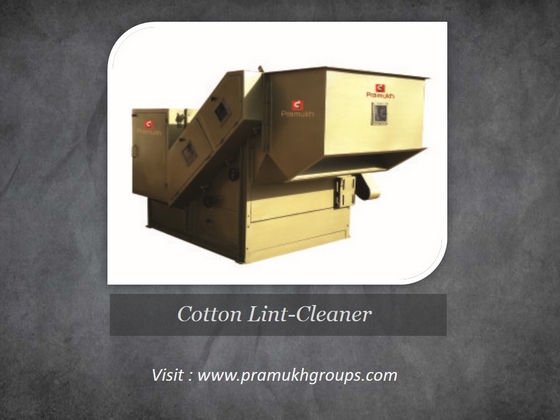 COTTON LINT CLEANER MACHINERY
Our Lint Cleaner is precisely designed to efficiently remove leafy matters, seed coasts etc. from ginned lint and clean the Cotton Fiber. Cotton Lint Cleaner offered by us is perfect to improve the grade as well as appearance of lint. With high quality grid and spade system, it protects the quality of the fiber and reduces the trash content. Available in our Lint Cleaner is easy to operate and maintain.
COTTON LINT CLEANER
High Power Double Roller Ginning Machine
Raw Cotton Feeding Automatic Trolley System
Cotton Pre-Cleaning Machinery (like Pre-Cleaning Machine & Storage Box)
Auto Feeder For Double Roller Gin Machine
.
PRAMUKH LINT CLEANER : FEATURES
Low maintenance cost.
Saving in labour cost.
Galvanised Flexible Beater Strips - Reduces Losses & Jamming.
Removes seeds coats, leafy matter after ginning.
Special Design of Spike-Preserves the Natural Qualities Of "Fibre".
Reduces trash content & other contamination.
Removes Fibre Coates, Leafy Matter & Foreign Material-Better.
Removes Micro dust - Reduces Trash Percentage.
Better quality lint yields higher returns. Easy to maintain;
Robust Construction-Longer Life.
Simple Maintenance & Ease in Operation-Low Maintenance Cost.
Improves lint grade & appearance.
Precise design of spades & grid system preserve fibre properties.
Removes short fibre clusters from ginned lint.
Reduces trash content, cleans gently and efficiently and improve lint grade

TECHNICAL DATA

| NO | DESCRIPTION | MODEL -1 | MODEL -2 |
| --- | --- | --- | --- |
| 1 | No. of cleaning cylinders | Three | Six |
| 2 | Width | 1200 / 1500 / 1800 mm | 1200 / 1500 / 1800 mm |
| 3 | Type | Inclined | Inclined |
| 4 | Cleaning Capacity (Lint) | 1200/1500/2000 Kg/Hour | 1200/1500/2000 Kg/Hour |
| 5 | Connected total power | 7 HP | 5/7 HP |
| 6 | Bypass Arrangement | Provided | Provided |
| 7 | Wheel-mounting (optional) | YES | YES |
| 8 | Feeding system | Mechanical/ Pneumatic/ Manual | Mechanical/ Pneumatic/ Manual |

Service Lists

Provide Engineers For Ginnery & Oil Mill
Reparing Facility For All Types Gin Machines
Supply Double Roller & Saw Gin Parts
Export Facility
Provide Electrical Solutions
Bulid Strong Steel Structure
One Way Solutions For Ginning & Oil Mill

Testimonials

Year, 2014 Isika hametraka Pramukh Double Roll Machine & Automatic System,Izany no tsara indrindra System Install amin'ny landihazo ginnery.

Mr,Salim Dhramsi

- Owner Cotton Ginnery

9 juillet 2014 Je vous écris cette lettre pour vous remercier pour votre travail remarquable sur le projet Coton usine d'égrenage. Votre expertise rouleaux de la machine et l'attention au détail étaient extrêmement utiles sur le projet.

Kamal Butt

- C.E.O : Cotton Ginnery, Oil Mill