PRAMUKH FULLY AUTOMATIC PLANT
AUTOMATIC COTTON GINNING SYSTEM
We Offering High Quality fully Automatic Cotton Ginning System in cotton Industries. This System is Manufacture by Our Companies Best Engineers. This System is using In Fully Automatic Cotton Ginning Units/Plants. All Big Indian Cotton ginnery is use this type automatic system. It is available in different specifications and can be customized as per the application requirements of the clients within the promised time frame. The entire range of Transfer Trolley System is known for smooth operation, robust construction, easy installation and longer service life.
We Supply Our Machinery in india(Gujarat, Rajasthan, Orrisa, Karnataka, Maharastra, Assam) and also we supply in african countries, This System is very useful for manual ginning units, because this is a best way for fast, easy, and continuous production. We operating throughout India and various other countries like Madagascar, Now We wish to supply this Automatic system in Other countries Like Bangladesh, Egypt, Indonesia, Kenya, Madagascar, Myanmar, Nepal, Nigeria, Peru, Shri Lanka, Tanzania, Uganda, Zambia, and Zimbabwe etc.
PRAMUKH TROLLEY: A Profitable System
Engineering experiences and expertise combined to ensure lowest operational and maintenance cost.
Easy working , reduces cost and adds to profitability.
Less power consumption.
Auto Feeder For Double Roller Gin Machine
Equally Feeding raw material in Double Roll Gin Machine.
High quality steel structure for trolley train.
.
MACHINERY WE USE IN AUTO-MATIC GINNING SYSTEMS
1. RAW COTTON PRE-CLEANER
2. HOT BOX / STORAGE BOX / DISPENSING SYSTEM
3. RAW COTTON CONVEYOR SYSTEM
4. AUTOMATIC TROLLEY SYSTEM
5. STEEL STRUCTURE FOR TROLLEY SYSTEM
6. SLOPPER FOR AUTO-FEEDER
7. COTTON AUTOFEEDER
8. COTTON GIN STAND
9. COTTON LINT CONVEYOR
10.SUCTION SYSTEM
11.BLOWER
12.CYCLONE OR DUST COLLECTING SYSTEM
13.AIR-SEPARATOR
14.COTTON LINT-CLEANER
15.CONVEYOR BELT SUSTEM LINT CLEANER TO PRESS
16.COTTON BALE PRESS (170 TO 250 KG)
17.AUTO-MATIC COTTON BALE PACKING SYSTEM
18.AUTO-MATIC BALE WEIGHT SYSTEM
19.COTTON BALE STRAPPING SYSTEMS
20.ALL TYPES COTTON GINNING SPARE PARTS
21.TOUCH SCREEN PANEL
22.ALL TYPES ELECTRIC PRODUCTS
23.COTTON BALE HANDLING SYSTEM
24.COTTON LIFTER SYSTEM
25.WAYBRIDGE SYSTEM
26.ALL TYPES STEEL OR CONCRETE SHED
27.DUCTING SYSTEMS
28.HUMIDIFICATION SYSTEM
.
AUTOATIC GIN PLANTS PHOTOS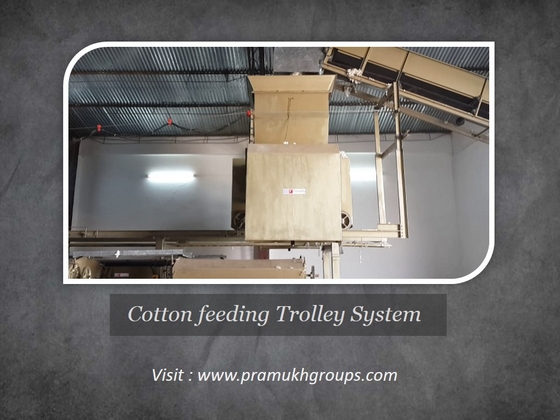 Service Lists
Provide Engineers For Ginnery & Oil Mill
Reparing Facility For All Types Gin Machines
Supply Double Roller & Saw Gin Parts
Export Facility
Provide Electrical Solutions
Bulid Strong Steel Structure
One Way Solutions For Ginning & Oil Mill
Testimonials
Year, 2014 Isika hametraka Pramukh Double Roll Machine & Automatic System,Izany no tsara indrindra System Install amin'ny landihazo ginnery.
Mr,Salim Dhramsi
- Owner Cotton Ginnery
9 juillet 2014 Je vous écris cette lettre pour vous remercier pour votre travail remarquable sur le projet Coton usine d'égrenage. Votre expertise rouleaux de la machine et l'attention au détail étaient extrêmement utiles sur le projet.
Kamal Butt
- C.E.O : Cotton Ginnery, Oil Mill